How It Works
ICESat-2's spacecraft will provide power, propulsion, orbit, navigation, data storage and handling, and more. It features an incredibly precise knowledge of the satellite's position in space – critical for taking measurements.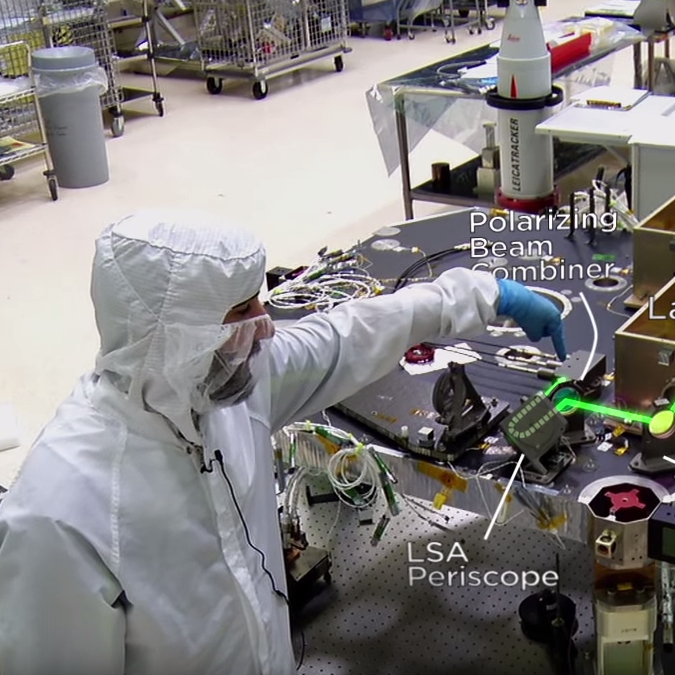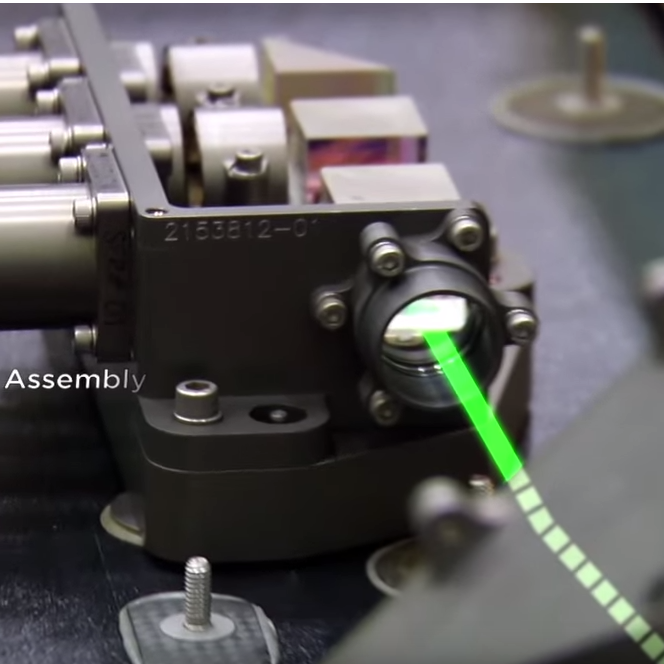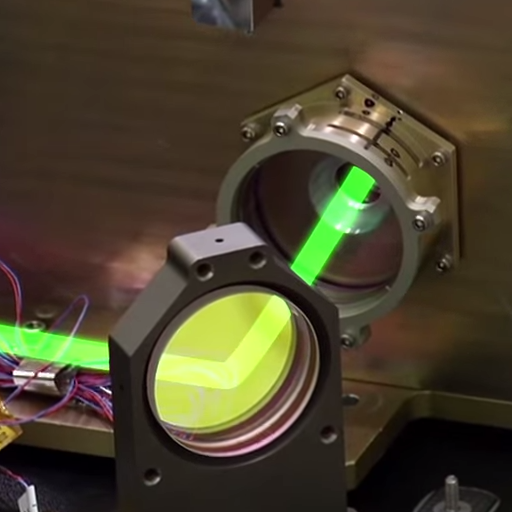 Learn more about how ICESat-2 works here.
SPACE LASERS
SPACE LASERS
ICESat-2 will carry a single instrument – the Advanced Topographic Laser Altimeter System, or ATLAS, which times the travel of laser pulses to measure the elevation of Earth's surface. New technologies will allow ATLAS to collect a more detailed, precise picture of heights of Earth's surfaces. Learn More.

SPACE LASERS
ICESat-2 will carry a single instrument – the Advanced Topographic Laser Altimeter System, or ATLAS, which times the travel of laser pulses to measure the elevation of Earth's surface. New technologies will allow ATLAS to collect a more detailed, precise picture of heights of Earth's surfaces. Learn More.
TEAM
Scientists, engineers, computer programmers, system administrators, support staff, technicians, contractors and others all work to make the ICESat-2 mission a success. Meet some of them here.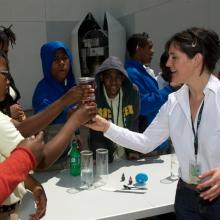 Valerie Casasanto
Outreach Lead
Valerie Casasanto is ICESat-2's outreach lead, and has worked on different NASA projects throughout her career, helping to design and integrate payload experiments for the space shuttle. As the outreach lead, Valerie designs and creates materials that spread the word about ICESat-2's cool science and engineering, and interacts with student groups and the public. She is also involved in NASA's Beautiful Earth program, which combines science with art and music. Valerie also enjoys sailing, and watching the osprey family that lives nearby.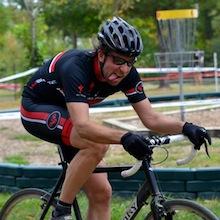 Tom Neumann
Project Scientist
Tom Neumann is ICESat-2's project scientist, making sure the mission gathers the best possible information for the scientific community. He's quite familiar with ice, having traversed Antarctica on a five-month research expedition and drilled cores in the Greenland ice sheet. There are many smart people on the ICESat-2 team who want to figure out how to make things work – which is one of the most enjoyable parts of the job, he said. Beyond work, Tom races bikes and plays guitar in a band with other ice scientists.
Thorsten Markus
Former ICESat-2 Project Scientist
Thorsten Markus' favorite part of his job as project scientist was watching anticipation build among researchers for the mission's first set of height measurements. Thorsten was first drawn to cryosphere science as an undergraduate student, when he went on a research cruise to Antarctica and saw its phenomenal icy ecosystems with seals, penguins and more. He is also the Cryospheric Sciences Laboratory chief at Goddard, and outside of work is in a band with several other lab scientists, sails and plays tennis.
Stephen Holland
SCF & Flight Algorithm Programmer
Stephen is a programmer with the ICESat-2 Science Computing Facility, and the ATLAS Flight Science Receiver Algorithms team. He started at NASA looking out into space as an astrophysicist, with the Swift Gamma-Ray Burst Explorer mission, but since 2014 has been focusing on Earth with the ICESat-2 mission. Working with the mission team has been a highlight, he said, and he's looking forward to putting the tools he's developing to work when ICESat-2 launches.
Sabrina Delgado Arias
Sabrina Delgado Arias, ICESat-2's applications coordinator, studied agriculture and resource economics and science & technology policy. Before coming to NASA she worked on model development focusing on agricultural production and land use change. At Goddard, she engages with user communities interested in exploring the utility and societal value of ICESat-2 data. Learning about the innovative ways in which scientists and data users propose to use ICESat-2 observations strengthens her passion to explore and improve our understanding of scientific knowledge flows. Sabrina is an avid bird watcher, loves hiking and is building a repertoire of adventures in skiing and brewing beer!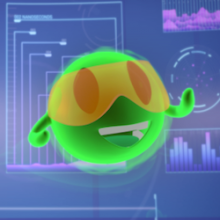 Pho the Photon
Pho – a mission mascot created by the ICESat-2/SCAD Collaborative Student Program - is one of trillions of photons working on the ICESat-2 mission to bring back important measurements of Earth. Pho spends part of his time beaming down from the satellite and bouncing off Earth's surfaces to take vital measurements of the height of surfaces like ice sheets and tree tops. Pho spends the other part of his time educating children and adults about the science and engineering of the mission and why it is important to study the ice-covered areas of our planet. Pho enjoys the excitement of his work and spreading the word about ICESat-2. He especially loves the view of Earth from way above as he is exiting the satellite and making his way downward. His favorite color is green.
Phil Luers
Deputy Instrument Systems Engineer for ATLAS
Phil Luers has worked on ATLAS since 2009, and was responsible for the overall electrical systems design -- defining how parts of the instrument work together to measure photon time-of-flight. He has worked on flight missions at Goddard for more than 25 years, designing and testing electronics on spacecrafts and instruments for seven different missions before ATLAS. Phil has lived in Maryland all his life and even went to school here, earning degrees from the University of Maryland and Johns Hopkins University. He enjoys sailing, power boating and homebrewing.
Paige
Paige is a mission mascot created by the ICESat-2/SCAD Collaborative Student Program. Students from the Montgomery Knolls Elementary School in Silver Spring, Maryland, came up with her name -- short for 'Plucky Antarctic Ice Ground Explorer.' Paige is courageous and eager to explore new things, and was thrilled to hear that she was accepted for her dream job as part of the 2016 NASA intern program! She will be involved in helping with all areas of the mission including science and engineering, explaining to young people why ICESat-2 is awesome, designing and painting ICESat-2 promotional materials, and helping with the citizen science program of validating measurements on the ground. Her favorite pastime is sliding on her belly down the ice sheets.
Orson John
Reliability/Quality Engineer
As an ATLAS quality and reliability engineer, Orson John works on performing failure mode, fault, and risk analyses for the instrument. Orson started at Goddard as a summer intern, continued as a NASA Pathways student, and came to NASA fulltime after college. He has worked with the ATLAS project throughout his Goddard career, and has also supported programs including MAVEN, OSIRIS-REx, and GEDI. He is also involved in Goddard's Native American Advisory Committee (NAAC), sharing his experience of growing up on the Navajo Indian Reservation, attending college, and participating in NASA programs. As a member of the NAAC, he helps promote programs and events that encourage the recruitment and participation of Native American individuals at Goddard, and encourages students to apply for the NASA internship and Pathways programs.
Megan Bock
As the systems engineer responsible for ATLAS data products and analysis, Meg creates the tools that help verify whether the instrument is performing as it should. Since joining Goddard as a contractor in 2006, she has supported several missions including one of the Hubble servicing missions, the TIRS instrument and the GOES-R satellite, working mostly in mechanical and systems engineering and performance analysis. Meg is an avid sports fan who enjoys traveling with her husband - they've combined these loves in a quest to visit all 30 Major Leauge Baseball stadiums (20 down so far!). She's also a mentor for a high school robotics team.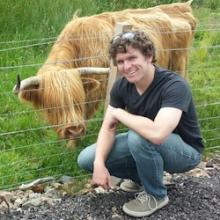 Matthew Garrison
Matthew Garrison is the thermal lead for the ATLAS instrument – making sure the systems stay steady as the space environment flashes from temperatures hundreds of degrees below freezing to above the point where water boils. He's worked with several different missions at Goddard, including the Lunar Reconnaissance Orbiter, and with ATLAS has enjoyed participating in all stages of the project, from helping develop the concept and design, to assembling and testing the instrument. Matthew also runs marathons and brews beer.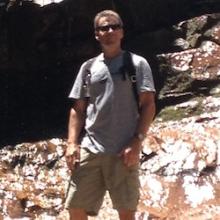 Mark Seidleck
Deputy Project Manager/Resources
As the Deputy Project Manager for Resources, Mark is responsible for the mission's business, planning and budget execution. He came to Goddard as a Co-op student while he was getting his Master's degree in Business and Information Systems, and has worked on several flight projects before, including CALIPSO, GOES, TRMM, Fermi and CloudSat. The most rewarding part of the job, he said, is to see the really cool stuff NASA can do - and to be able to play a role in those achievements. Mark is also a skiier and likes to paddle board.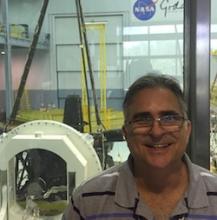 Luis Ramos-Izquierdo
The optics – the mirrors and lenses of the ATLAS instrument – get oversight from Luis, who ensure they work as intended. ICESat-2's instrument is the latest in a series of space-base laser altimeters that Luis has worked on, having helped design the instrument on the first ICESat mission, as well as ones designed to measure the moon, Mars and Mercury. He studied engineering physics and optics in school, and says he was at the right place at the right time to get a job at Goddard.
Lori Magruder
Science Team Leader
Lori Magruder is a research scientist at the University of Texas Applied Research Laboratories and has been the ICESat-2 SDT Leader since 2014. Her technical background is in aerospace engineering, with a focus on lidar remote sensing. One of her favorite experiences was working on the first ICESat mission, where her task was to capture the satellite's laser footprint as it hits the ground, in order to validate the measurement timing. Although this task required her to be out in the desert in the dead of night, waiting for the satellite fly-overs, she reports that having a green laser from space hit you on the head was pretty fantastic. She was able to catch 10 spots and was called 'The Queen of the Green' by her ICESat team. She looks forward to seeing ICESat-2 on-orbit and the opportunity to contribute to such an exciting mission! Lori enjoys living in Austin, Texas, with her husband and three children, loves to travel and believes that breakfast tacos are one of the greatest inventions…..ever.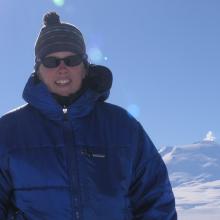 Kelly Brunt
Data Validation Coordinator
Working with the ICESat-2 Project Science Office is a logical step for Kelly – she studied the interactions between the ice sheets and the oceans as a PhD student, then used data from the first ICESat satellite to examine ice shelf structures in her postdoctoral work at Scripps Institution of Oceanography. She was a part of a team that surveyed a region in Bolivia to help calibrate ICESat, and is coordinating on-orbit calibration and validation of ICESat-2 data.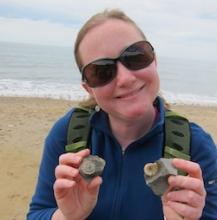 Kate Ramsayer
Science writer and outreach specialist
Kate Ramsayer is the writer for the ICESat-2 mission, and as such is always looking for analogies for very large and very small numbers. A biology major in college, she switched to science writing after realizing she wanted a broader perspective than molecular genetics -- and now she gets to write about the global views of our planet from satellites. Kate is an avid knitter and owner of an amazingly sweet dog, but has no plans to knit for the dog.
Joseph Krygiel
Joe Krygiel, ICESat-2's project schedule manager, is responsible for developing, maintaining and controlling the Integrated Master Schedule – tracking the progress of the mission to ensure a successful launch date. His Goddard career began in 1999, as a mechanical systems integration engineer, working on the Hubble Servicing Missions. He's worked on several different missions at Goddard and enjoys the educational experience that results from working alongside brilliant colleagues. Outside of work, Joe enjoys keeping up with technology, craft beer, and golf.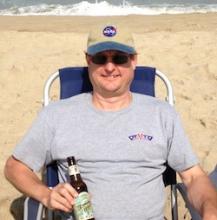 Jim Busch
Jim Busch, ICESat-2's ground systems manager, is responsible for the ground systems that will support the satellite when it launches. He's been at Goddard since 1988, helping more than 20 missions, and says it has been a 'fantastic endeavor', to constantly learn and work with smart people. 1988 was also the year Jim started brewing beer – he now has a home brewery and makes test beers for Victory Brewing Co., where he is also a director.
James Jaranyi
Mission Operations Director
As ICESat-2's Mission Operations Director, James Jaranyi heads the mission once the satellite launches, overseeing the team that keeps up the health and safety of the spacecraft and the ATLAS instrument. He loves that he gets to tie together the science side of the ICESat-2 mission – working with researchers to ensure it collects the data they need – and the engineering side – keeping the satellite going strong for as long as possible. James came to Goddard in 2000 and has worked on the JPSS, Aqua, Aura and Terra missions. He enjoys sailing, and wants to visit remote places such as Svalbard, and finds connections between his hobby and job – both involve exploration, and also the Earth-orbiting satellites improve the weather forecasts he uses out on the ocean.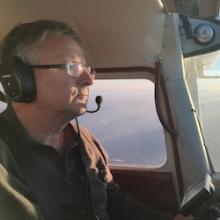 Erik Andrews
Erik has been intrigued by aerospace and aviation since he was a kid, watching Neil Armstrong and Buzz Aldrin walk on the moon. That wonder led to studying physics and mathematics as an undergrad, computer science and operations research as a graduate student, and then a career with the Navy, the Department of Defense, and now NASA. At Goddard, he's worked with several missions, including the Magnetospheric Multiscale Misison and the Fermi Gamma-ray Space Telescope. Flying, biking, volunteering and reading fill his free time.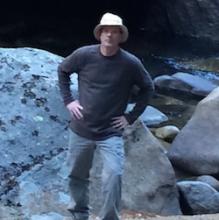 Ed Sullivan
Ed Sullivan is a contractor from Fibertek in Herndon, Virginia, which is the company that designed, built, and delivered the lasers for the ATLAS instrument. He's an electrical engineer with many years of experience designing, integrating, and testing flight hardware for space missions. When not working, Ed enjoys reading, running and trail-riding.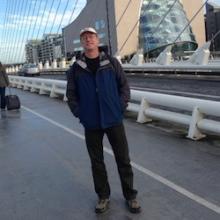 Doug McLennan
As the ICESat-2 Project Manager, Doug McLennan is responsible for the entire mission -- he sees it as his job to make sure everyone on the team understands their job and is encouraged to excel at it. H has loved being involved in the development of the flight hardware, and is looking forward to the operational phase of the mission – there's nothing more satisfying than knowing a satellite is in space, providing the scientific data it's designed to produce, he said. Doug came to NASA to work on the Earth Observing System in 1998, and has also worked on Aqua, GOES, ST-5 and the SAM instrument on Curiosity.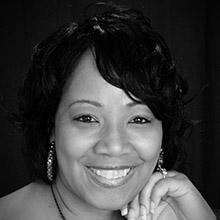 Donya Douglas-Bradshaw
Donya Douglas-Bradshaw joined NASA as a co-op student, and is now the ATLAS instrument project manager. She was always drawn to science and math during her early school years, and had a keen interest in how things worked. By the age of ten, she knew she wanted to be an engineer. Her goals in her high-school yearbook were to marry her high school sweetheart and work for NASA. So, during her second year of college, when she was selected for an internship with NASA Wallops Flight Facility, she eagerly accepted. More than twenty-five years later, she's still living the dream.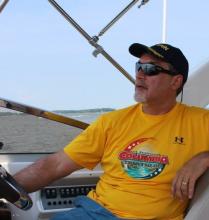 Charles Chidekel
Mission Integration and Test Manager
As the mission integration and test (I&T) manager, Chuck plans, conducts and oversees the assembly, integration and testing of the ICESat-2 observatory – the spacecraft plus the instrument. Different teams design, fabricate and test individual components of the observatory. But the mission I&T manager is responsible for the team that assembles these different components into a working satellite, and then conducts test to ensure ICESat-2 will perform as expected in space and meet its science objectives. Chuck has been at Goddard for more than 30 years, and prior to ICESat-2, worked on the Solar Dynamics Observatory, XRS-II, TRMM, and 10 space shuttle missions under the Hitchhiker program. In his spare time he enjoys taking friends and family out on his boat and playing golf.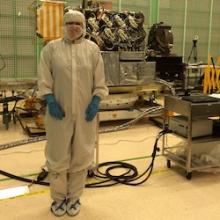 Carol Lilly
ATLAS Integration & Testing Programmatic Lead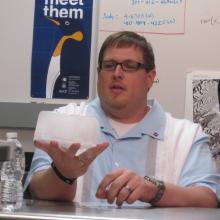 Brian Campbell
ICESat-2 Educational Lead
Brian, a former high-school teacher, develops ICESat-2 educational materials, activities and exhibits, building on the work he did for the first ICESat mission, with a goal of educating the world that ice cover in far-off regions like Greenland and Antarctica has impacts on people's lives. Outside of work, our education lead can out-bowl your education lead: Brian has bowled 18 sanctioned perfect 300 games.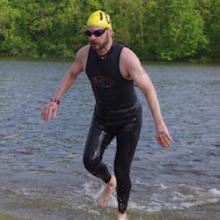 Anthony Martino
As the instrument scientist, Tony was responsible for the architecture and high-level design of ATLAS. He now helps run instrument performance tests and computer models to ensure ATLAS will meet the mission's science requirements. He has always been fascinated by maps and stories of exploration, and after getting degrees in physics and optics he started work at NASA doing research, building flight hardware and more. The biggest reward on the ICESat-2 project so far, Tony said, has been watching the hard work of team members turn presentation charts into a real working instrument.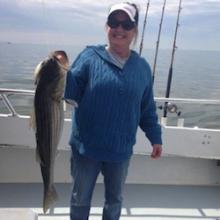 Alison Burns
Alison, the mission's project admin, supports the team's project managers and front office with all things administrative. She's not surprised that NASA is often voted one of the best places to work - it's a 'close family,' she said, and she loves seeing people from years past in the halls. Alison has been at Goddard since the 1990s, and worked on the Hubble Servicing Missions project team for almost 18 years. She likes that every day is different at Goddard, and outside of work you can find her fishing or reading.