We encourage you to get involved in mission applications by attending an applications event, contacting one of the team members, or joining our online email listserv to stay informed about future activities. You can also provide us with feedback by emailing us at: icesat-2-applications@lists.nasa.gov
Events and Activities
The Applications Team will host at least one workshop, focus session or tutorial per year. These events are designed to bring developers and users together to engage in dialogue on how products are used and what can be done to improve them.
Upcoming Event
ICESat-2 Applications Town Hall at AGU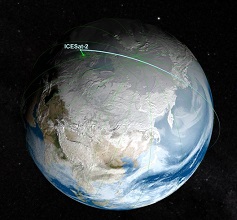 ICESat-2 is now in its final year before launch in 2018. Curious about how you could use the upcoming ICESat-2 data? This town hall provides updates on mission development, highlights research insights for the application of ICESat-2 observations, and provides an opportunity to learn how you can get involved in defining new areas of application of benefit to your target communities.
We invite you to join us! For latest information, visit the American Geophysical Union site for our Town Hall.
Important Information
Monday, December 11, 2017: ICESat-2 Applications Town Hall Begins
Time: 12:30-13:30
Location: New Orleans Ernest N. Morial Convention Center - 252-254, New Orleans, Louisiana
Types of Events
Workshops: Meetings that are widely announced and open to the public with the intent that a broad diversity of topics is used to facilitate information to audiences with diverse interests.​
Focus Sessions: Small events tailored to specific communities to provide detailed information about a connected group of products or applications.​
Tutorials: Information transfer events that address potential synergies designed to leverage innovation on how to best combine datasets from other missions (NASA and others) with those of ICESat-2.​
Town Halls: Town Halls provide an opportunity for questions and answers with the project science team and the applications team.
Past Events
Explore past events hosted by the ICESat-2 Applications Team!