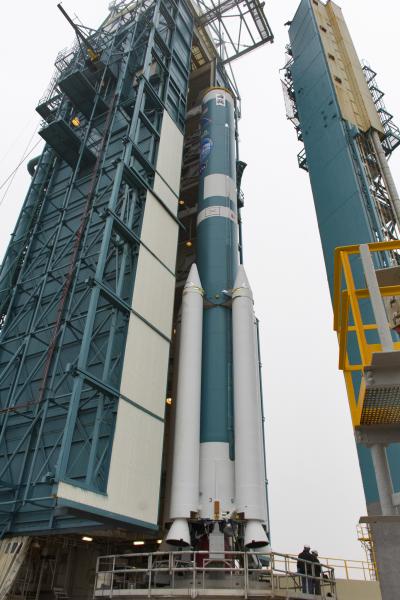 Launch Specs
Spacecraft: Ice, Cloud and land Elevation Satellite, (ICESat-2)
Launch Vehicle: United Launch Alliance (ULA) Delta II (Last Delta II launch)
Launch Location: Vandenberg Air Force Base, California
Launch Pad: SLC-2W
Launch Date: September 15, 2018
Launch Time: 6:02am PDT
Delta II ICESat-2 Launch Highlights
Join the Online Discussion
Follow the ICESat-2 blog
Stay up-to-date on the latest ICESat-2 news and connect with us!
PARTY KIT

Are you planning to host an ICESat-2 launch party? If so, we would love to hear from you! Email Brian Campbell and let us know about your party; where it is, who it's for, and anything else you would like us to know. Also, feel free to ask us any questions about the ICESat-2 satellite and its launch.
HANDS ON ACTIVITIES
HoloGLOBE Virtual Reality App with the ICESat-2 module: This is a hands-on interactive for all ages in which you can hold the Earth in 3-D in your hands to view and interact with our planet and see ICESat-2 orbits and elevation data.
For Android, download the app from
Google Play
For Iphone, download the app from
iTunes store
ICESat-2 Bouncy Ball Photon Counting Challenge
Using green bouncy balls that stand in for ICESat-2's photons, try to collect as many as you can. Great for groups of 2 or more.
Greenland Ice
Color the elevations of Greenland and observe the different heights that make up the Greenland ice sheet.
Build your own satellite model sheet
Instructions
Motion of the Ocean
Explore how water moves throughout the ocean with this hands-on activity, which uses colored salt water and fresh water in recycled tennis-ball tubes. The experiment demonstrates how fluids move depending on their densities -- see for yourself what happens when you pour fresh water on top of salt water in a tube. This activity mimics the ocean circulation system and the role that sea ice plays in the system.
Citizen Science
Trees Around the GLOBE
In conjunction with the launch of NASA's ICESat-2, GLOBE is launching a new "Trees Around the GLOBE" student research campaign – and is now calling on all GLOBE students and teachers to start taking tree height measurements on the day of the launch: 15 September. The GLOBE campaign will be focusing on one exciting variable that the ICESat-2 satellite will measure: tree height. Measuring tree height is a gateway to understanding many things about the environment. NASA scientists will periodically review the tree height data – and use it as satellite data validation, and in potential professional research.
For more information visit the Trees around the GLOBE Campaign.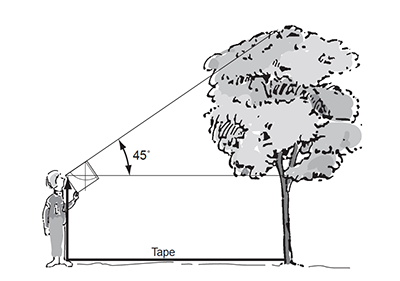 VIDEOS
Play the 3 minute animated feature: 'Photon Jump'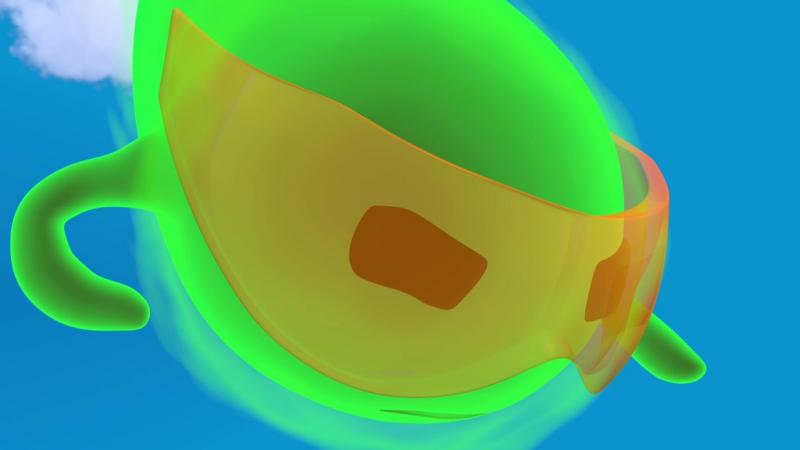 Play our short feature film: 'ICESat-2 Elevates our View of Earth'
Go to the ICESat-2 Mission Multimedia Site for more images and videos.
Printed Media
ICESat-2 infographic
ICESat-2 Fact Sheet
ICESat-2 Brochure
Sample Flyer: Download this sample flyer (.docx format), customize it to fit your event and use it to help promote your event. Make Your Own Flyer: Use images from our Multimedia section to get started creating your custom flyer to promote your ICESat-2 Launch Party.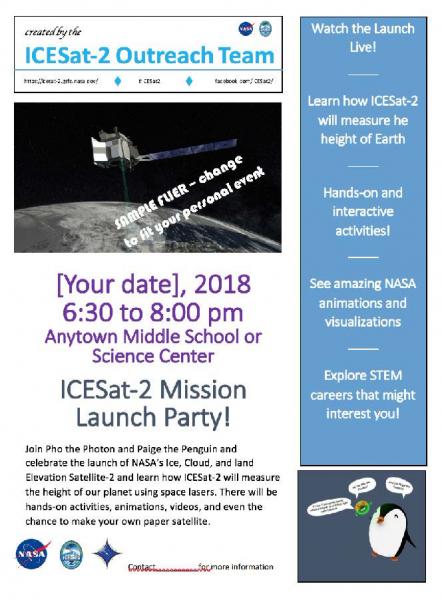 ICESat-2 will be launching on the last Delta II rocket. Share these posters created by our partner Kennedy Space Center Launch Serviceswith your guests.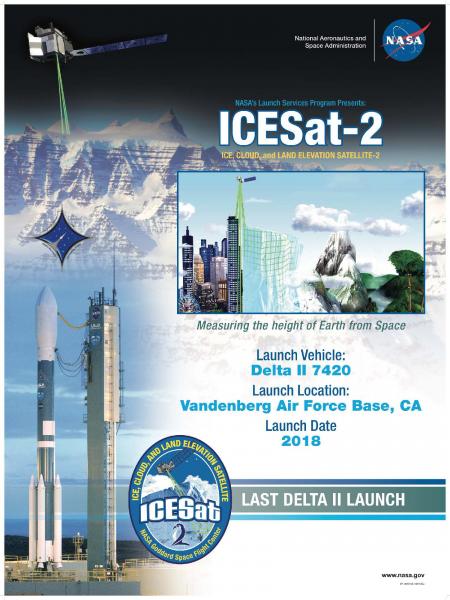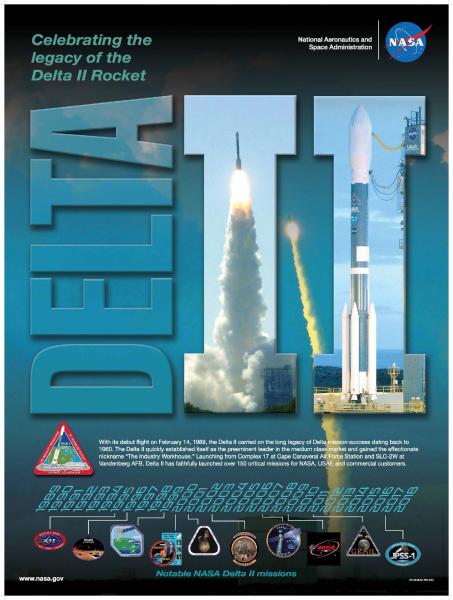 LAUNCH WEEK LOCAL EVENTS
In collaboration with our partners Explore Lompoc, and NASA Kennedy Space Center's Launch Service Providers (LSP) Outreach, a variety of public engagement events will be held in Lompoc and Buellton, California throughout launch week.

Thursday, September 13

1:00-2:00pm PDT Public Library, Lompoc, CA:Public Library Presentation. ICESat-2 Launch Engineers, Rex Engelhardt and Shaun Daly will talk about the Delta II rocket, the ICESat-2 mission, and the 4 CubeSat Missions flying aboard the Delta II.

4:00-5:30pm Dick DeWees Senior Center, Lompoc: ICESat-2 Educator Workshop participants will learn about the science of the ICESat-2 Mission and try out a tree height-measuring activity and the HoloGLOBE virtual reality educational app. The workshop will also be broadcast via Facebook Live from theGLOBE Mission Earth Facebook page. RSVP for in person attendance.

5:00pm-8:00pm Dick Dewees Senior Center, Lompoc: ICESat-2 Open House with Hands-on Booths open to public, and Interactive Science Talk at 6:00pm with ICESat-2's Laser Instrument Scientist, Tony Martino. Learn about the ICESat-2 mission, try out a variety of hands-on activities, and collect mission memorabilia.

Friday, September 14

8:00-10:30am PDT Santa Ynez Valley Marriott, Buellton, CA: Coffee with a Scientist. This is an informal way to meet and converse with ICESat-2's scientists. Grab a coffee and find a scientist (wearing a penguin button).

2:00-4:30pm PDT Santa Ynez Valley Marriott, Figueroa Ballroom Foyer, Buellton, CA: ICESat-2 Scavenger Hunt/Hands-on Stations, Early Adopter Showcase, and talk with a Scientist Event.
Learn about the ICESat-2 Mission, Operation IceBridge, Delta II rockets, and more. Try out hands-on activities and displays.Talk to ICESat-2 scientists and engineers. Collect mission stickers, posters, and more.
7:00-9:00pm PDT Solvang Festival Theater, Solvang, CA: Beautiful Earth Program. Join us for a special under the stars live music multimedia experience the eve before the ICESat-2 launch. Kenji Williams (BellaGaia.com) will perform solo with Earth from Space imagery and NASA visualizations. Dr. Thorsten Markus, ICESat-2's Project Scientist, will speak to the audience about what ICESat-2 is all about and the important science and data it will collect. Participants will have a live 'hold the Earth' augmented reality experience with HoloGLOBE. Space is limited. RSVP here.

Saturday, September 15

Launch Day! Public viewing site at Vandenberg to be announced.