What Are Applications?

Applications are defined as innovative uses of mission data products in decision-making activities for societal benefit. Mission Applications take a satellite's data products and expand them into areas where they can help inform policy or decisions. A mission's "End Users" are the individuals and groups from private sector organizations, industry associations, universities and government agencies who make these decisions. For example, ICESat-2 measurements of reservoir height can indicate the potential for flooding or drought, which local governments could use to regulate water usage.
HOW DOES IT WORK?

The ICESat-2 Applications Program works in conjunction with the ICESat-2 Project Office to identify and expand its user community during the pre-launch phases of the mission. The main goals of this effort are to discover and demonstrate innovative uses and practical benefits of the ICESat-2 observations to maximize the ability of decision-makers to use the data once the satellite is operational.

The relevant communities of end users can be characterized into two groups, (1) the community of practice (those users who traditionally use satellite remote sensing data in processes or decision support) and (2) the community of potential (those individuals who do not currently use the satellite data products but either have applications that could benefit). Individuals or organizations in both communities can be public or private, Federal or local entities, and can have a local, national or international scope for their application.

Specific activities for the applications efforts include (1) hosting interactive workshops, focus sessions and tutorials to engage the community of practice and potential; (2) establishing an Early Adopter program to demonstrate the how ICESat-2 data products can be useful in societally relevant applications; and (3) developing cross-mission activities to establish connections between the ICESat-2 community and other NASA mission communities. Establishing feedback loops between the mission and end-user communities is a fundamental and highly valued component of the ICESat-2 Application Program efforts.
Early Adopters
An essential component of pre-launch applications efforts is the Early Adopter Program. Early adopters provide the mission with key insights on how ICESat-2 observations can be integrated into decision processes of relevance to society. Early Adopters are groups and individuals who have a direct or defined need for ICESat-2 data, and who have an interest in using products from the mission to inform key decisions. Through the program, early adopters investigate how ICESat-2 data could feed into their operational system or decision processes. They use preliminary data products, like those from the airborne MABEL instrument, to emulate the structure of ICESat-2 data products.
Learn more about the Early Adopter Program.
White Papers
With new data from ICESat-2 about Earth's heights, researchers and resource managers anticipate advancements in several applications areas. White papers describe how ICESat-2 measurements can contribute to improve decision making around specific environmental issues.
Discover more:



Get Involved

Explore the latest events hosted by the ICESat-2 Applications Team! Learn more.
ICESat-2 Atmospheric Tutorial
Discovery Learning Collaboratory, Boulder, Colorado
May 31-June 1, 2017


Tutorial Prospectus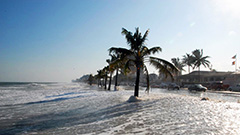 Melting Water, Rising Sea Level Focus Session
SPoRT Center, Huntsville, Alabama
15-16 November, 2016


Focus Session Report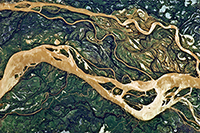 ICESat-2 Inland Water Focus Session
AWRA Annual Water Resources Conference
Denver, Colorado
November, 18, 2015


Focus Session Report